When was the last time you reached for your makeup kit and made a list of all the makeup products in it? According to reviews about Decorte Cosmetics , it's clear to see that there are thousands of cosmetics and make up products on the market, and while you can't go for all of them, there are some basic makeup tools and products which you must have in your kit.
Whether you are a beginner or a seasoned professional, here are some of the must-have items that your makeup bag should necessarily contain.
Face Mist
Face mists are designed for use before or after makeup, or both. While there are various types of face mists from different cosmetics brands , the best of face mists moisturizes, and refreshes the skin to prevent excessive sebum production and, consequently, acne breakouts.
Moisturizer
Moisturizing the face will prevent applying makeup in dry places or penetrating fine lines and wrinkles. The first use of moisturizer will ensure a more even application of the foundation, giving you a flawless finish.
Colour Correctors
If you ever have to deal with dark spots and colour changes, as well as redness, puffiness or shadows, colour correctors must always be in your makeup bag.
Foundation
A quality foundation is an essential product you must have in your makeup kit, as it will serve as a base for the rest of your look. The cream palette can often be the simplest solution, as it contains different shades, suitable for almost all skin types and is very compact.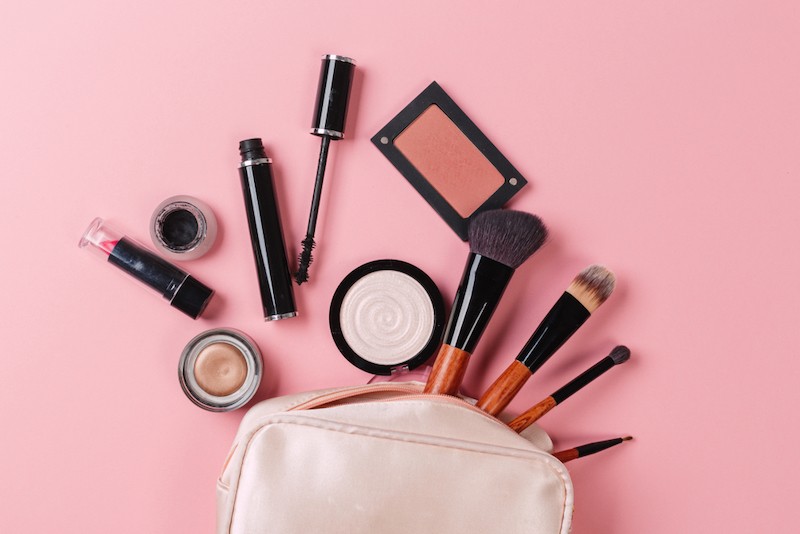 Concealers
You should have at least two concealers in your makeup bag. The first should be a concealer for the face, and you should also add concealer under the eyes.
Loose Powder
 Foundation and concealer are often the first makeup products applied to the face. When this is done, it always helps to put these products in powder form.
Highlighter
A small amount of highlighter can completely transform a face, provided you apply it to the right areas.
Eyeshadow Primer
If you want your eyeshadow to glide effortlessly over your eyelids and stay in place for hours, an eyeshadow primer is a must.
Eye Pencils
Eyeliner pens are not only so quick and easy to use, but they can also transform your face. You will need eyeliners in a variety of colours including: black, brown, peach, or white.
Eyelash Curler
An eyelash curler will give the entire area around a great lift, while your lashes will look much longer, even before you apply mascara.
Mascara
There are so many different types of mascara , from volume to extensions, and you should endeavor to have mascara in your make-up kit at all times.
Lip Balm
Lip balms are basically designed to protect your lips, so this is a product you'll probably use daily.
Lip Gloss
You can wear lip gloss on top of lip balm or apply it over lipstick. You would most likely find one in the makeup kit of any lady.
Lipstick
Lipsticks are one of the most popular products you will find in a makeup kit, and they are necessary to give your lips a vivid glow of colour. There are several formulas for lipsticks, and each has its unique benefits like matte lipstick, lip stains and cream lipsticks.
There are a lot of other beauty tools and products you could include in your makeup bag, such as brush sets, face primers and more. However, the products listed above are a must-have for every lady who cares about looking great.